1985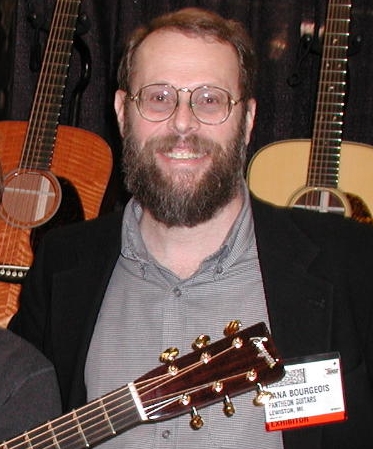 Dana Bourgeois, of Topsham, Maine.
Dana recalls, "I had been making guitars since 1975 and I was also running a folk club in the late 1970's. I met Eric Schoenberg when I hired him to play there . . . I started building OMs shortly after meeting Eric, and working on his guitars, in 1980 . . . Between 1980 and 1984, as a certified repairman for C. F. Martin Guitar Company, I got an opportunity to work on or restore some two dozen pre-war Martin OMs, which were either Eric's personal instruments or guitars that he purchased for resale at his store. This was my first in-depth exposure to great guitars."
"Eric had been dreaming about a cutaway OM since the day I met him, because no one was building one at that time. He wanted a cutaway that left as much of the air volume as possible and looked like the cutaway on Mario Maccaferri's Selmer, one of which he owned then. I didn't want to risk bending the Brazilian to the steep Selmer cutaway shape, so I designed a softer cutaway shape that I continue to use to this day. The idea was to keep the look simple and elegant, like the steel-string version of a classical guitar. I ended up building four such OM cutaways. Eric saw and played the first one in my workshop. He liked it enough to order one with features to his liking. This guitar was the Schoenberg Soloist prototype".

Dana Bourgeois
Eric remembers, "Dana had been my repairman, and he wanted to build a guitar for me. He showed me some very beautiful Brazilian Rosewood and German Spruce, and we designed the guitar together. Essentially, it was an OM with a cutaway. It had a sunburst that was copied after a beautiful 1932 OM-18 I had. I was also particularly interested in getting a subtle neck shape based on a particular 1931 OM-28 I had at the time. When it was done, we felt we had something others would be interested in. We brought the guitar to Martin as a prototype".
(This was only Dana's second Brazilian Rosewood guitar, the first being a "D" size sold at the Guild of American Luthiers' convention in Greensboro, NC, in 1985).
This OM guitar features:
German Spruce top with sunburst shading.
Brazilian Rosewood back and sides.
Brazilian Rosewood body binding.
Brazilian Rosewood headstock veneer.
Hand-mitred wooden purflings.
Ebony fretboard.
Ebony pyramid bridge.
Backstrip handmade of Maple, Walnut, & Ebony.
Abalone "Diamond & Squares" (aka "Slotted Diamonds") fretboard inlays.
Abalone triangle inlaid on neck heel veneer.
Bone bridge saddle.
Ebony pins with Abalone dots.
Graphite nut.
Bar frets.
Non-adjustable truss rod.
1 3/4" neck width at the nut.
2 3/8" string spacing at the saddle.
25 1/2" scale length.


The first "Schoenberg Soloist".
Click here for additional images.
Dana's apprentice since May of 1983, namely T. J. Thompson (an old friend of Eric Schoenberg), assisted Dana with this instrument. Thereafter, T. J. Thompson singlehandedly made the pyramid bridges for every Schoenberg Soloist.
"I always loved the look of pyramid bridges. Beyond the retro vibe, I think the combination of a tiny footprint and a little extra mass on the wings enhances responsiveness --or 'quickness' --in a small-bodied guitar". --Dana Bourgeois

T. J. Thompson

Soloist bridges handmade by T. J. Thompson.
TJ and Dana in 2016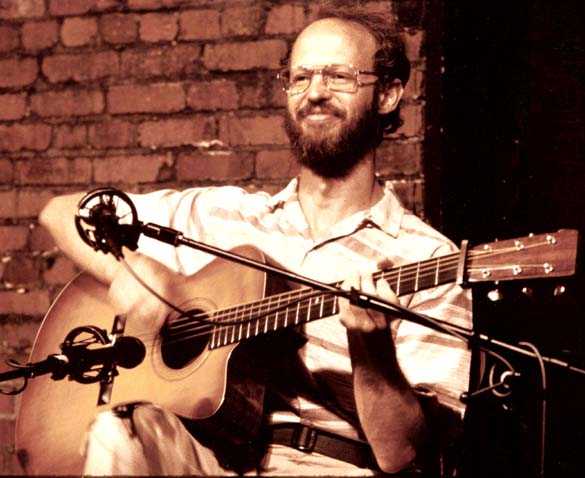 Eric Schoenberg in performance with the original Schoenberg Soloist Prototype.
Owners of this "Schoenberg Soloist" Prototype guitar:
1. Eric Schoenberg, Cambridge, Massachusetts, 1985-1989
2. Dana Bourgeois, Topsham, Maine, 1990
3. John Dana, Portland, Maine, 1991-1993
4. T. J. Thompson, Concord, Massachusetts, 1993
5. David Ziegele, Washington, D.C., 1993-1996
6. Steve Swann (of Steve Swann Guitars), San Mateo, California, 1996
7. Phil Stover, Darien, Connecticut, 1996-1999
8. Jim Baggett (of Mass Street Music), Lawrence, Kansas, 1999
9. David Gansz, Lexington, Virginia, 1999-2000
10. Paul Asbell, Burlington, Vermont, 2000-2012
11. Eric Schoenberg, Tiburon, California, 2012
12. ???
The marquetry backstrip on this instrument, handmade of Maple, Walnut, and Ebony, became the standard on all Schoenberg guitars as well as all guitars built by Dana Bourgeois thereafter.
One of Dana's first four OM cutaways (pictured below, when it returned to Dana's shop many years later for repairs), was built for Bob Bowman, and featured an Adirondack Spruce top. Dana cut the wood himself on Roque Island, Maine. He believed that this was the first American guitar built with a Red Spruce top in over 40 years. In addition, it has flamed Maple body bindings, an abalone rosette, a pyramid belly bridge, an Ivory butt wedge, andf bar frets.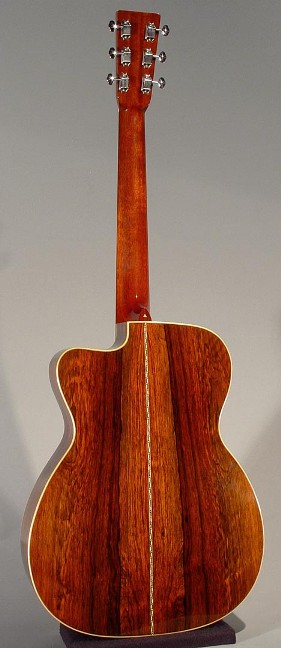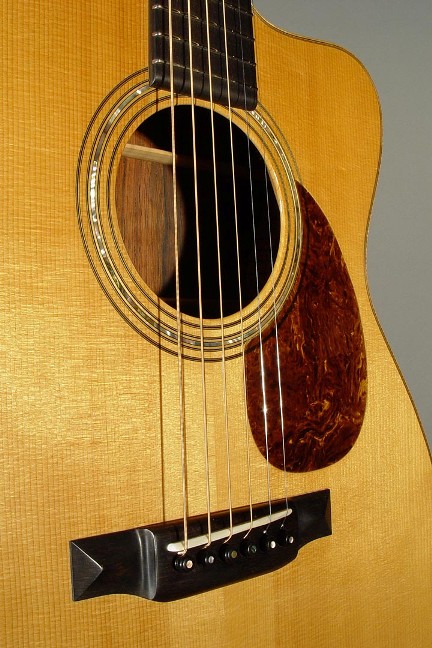 ---